PSB Beginnings
Pint-Size Publications formed as a Chicago-based nonprofit in 1995, before the microbrew craze, to publish Sport Literate, an award-winning journal that offers "honest reflections on life's leisurely diversions." In 21 years, we've earned nearly that many awards from the Illinois Arts Council and had almost as many writers recognized in the Best American Essays and Best American Sports Writing anthologies (with two republished in the latter). Now we're venturing into single-title works of creative nonfiction that we absolutely love.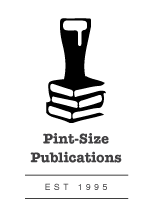 Many people have helped to keep Sport Literate afloat for 21 years. Though we should be old enough to know better than to invest more time and money into print publications, we're embarking anew with a three-person crew because of our passion for these titles.
Bill, publisher, is founding editor of Sport Literate and a freelance writer living in Mount Pleasant, Michigan.
Erin, web and print designer, works professionally in that same role in Indianapolis.
Shane Guenin
Shane, junior copyeditor, is studying recreation, parks and leisure as a freshman honors' student at Central Michigan University.
Nicholas Reading
Nick, the Sport Literate poetry editor, teaches English at Butler University in Indianapolis.
Brian McKenna
Brian, assistant editor, is a poet working at Mid Michigan Community College.
Sport Literate
With a primary focus on the creative nonfiction exploration of sports, this journal has created a niche in the literary marketplace. Writers and poets use sport as a literary springboard, and the published work has often sparkled. From two Sport Literate issues published in 2015, three writers, including Gayle Brandeis, Rachel Furey, and Phillip A. Snyder, will receive forthcoming nods in Best American Essays 2016. To borrow a cliché from the sporting world, we're continuing to raise the bar on sports writing.