Small Press. Big Kick.
Need a four flight sampler? From the Q&A with the Lance Mason, shared over drinks in a Skype talk, to samples of his work and what we've been serving for two decades with Sport Literate, the following links offer some tasty reading.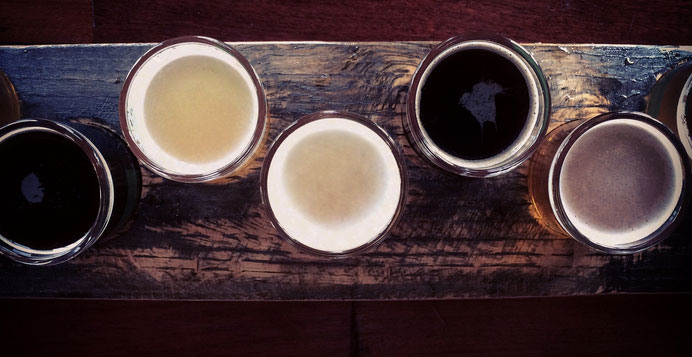 Pints with Lance
Our inaugural author fields a dozen questions on travel influences, political memoirs and emergency surgery in the Borneo bush.
By William Meiners
Lance Mason, author of A Proficiency in Billiards (hereafter PB), the essay collection we at Pint-Size Publications (PSP) feel compelled to sell you, has won several writing awards by documenting what he's seen abroad. Traveling over the last 40 years through all but one continent (shivering at the mere thought of entering Antarctica), Mason has emerged with a wonderful collection of true stories. He says the desire to explore came, in part, from hanging with bad company, some of whom you'll meet in PB.
If the writer's job is to help the reader see, you'll discover a vivid world in Mason's work. From Greece through Tito's Yugoslavia (and later the Balkans) on through South America, Africa, Asia, and elsewhere. By boats, on trains, and zipping motorcycles. All from the perspective of a Southern Californian sportsman who also happened to spend a four-decade career as a dentist and managed not to shoot any beloved lions on safari.
Given the look and feel of the PSP website, we thought it would be cool to share a half dozen pints with Mason, perhaps overlooking the Pacific Ocean from a Santa Monica watering hole. Unfortunately, we lack a travel budget. We handled the following edited Q&A via email. But there may have been some drinking in the back and forth. At least on the Michigan end.
William Meiners: What started you on the road? Where did the wanderlust come from?
Lance Mason: Around the World in 80 Days; my mother's trip to Europe in the late 1950s; trips to Mexico in high school and college; and new friends who had done some traveling.
WM:  Who did you read growing up? Which writers, if any, inspired your travels?
LM: Believe it or not, Homer and The Iliad and The Odyssey. But also, Catch 22, On the Road, Jack London's work (The Sea Wolf, Valley of the Moon, White Fang, The Iron Heel), Huck Finn's trip on the Mississippi; Hesse's Sidartha; Bellow's Augie March; Jupiter's Travels (around the world on a motorcycle). The stories about Marco Polo and his travels in China influenced my novel The Eunuch of Shanghai (a kill-and-chase whodunit that portrays modern China through the family saga of a billionaire patriarch and his rise from The Long March to The New China; it's a sequel to The China Contract, featuring a New Zealand homicide cop teaming up with an FBI agent to hunt down a political assassin; they return in Eunuch). As time passed: Bruce Chatwin, Gavin Young, Eric Newby, Wilfred Thesiger. It wasn't always travel, exactly, but detachment, or disengagement, from home.
WM: Southern California has been a longtime home, even as you would take leave of it for years at a time. What are the biggest changes you've noticed over time in SoCal?
LM: Over population. One question no policymaker will confront is, "How many is too many?" Instead, Washington D.C. uses federal funds to force communities to enlarge. L.A. is proof on a global scale that more roads never solve traffic problems. L.A. is also the worst American example of unregulated urban growth, where daily survival for millions is an illustration of our least admirable traits. I wrote a novel, The Brass Ring, about drug smuggling and money laundering in the California wine industry, about kidnapping and murder, and undercover secret agents. When Alex Corlett pays his first return visit to L.A. after years overseas, he finds that gasoline is cheaper than drinking water, and the city is described as an animal consuming people's lives "with a peristaltic quiver" (the way a snake swallows its prey, or a colon discharges waste). Over several generations, "Angelenos" (a term I use with pity) have become slaves to a dysfunctional urban sprawl that has corrupted what was one of the most beautiful locations for a city in America.
WM: We first got to read your work
through a Sport Literate submission about your rugby playing days, and specifically about a series of matches in Wales. How were you introduced to the sport and what made you take to it?
LM: At Loyola, some of that "bad company" I met played rugby. After my first season, I transferred to UCSB and we won the SoCal Championships, and I still have close friends from those years. The camaraderie in the sport is the strongest cohesive element. Today, I coach.
WM: I'm excited to watch rugby's debut in the upcoming Olympics. It's probably a game that the average American (myself included) knows nothing about. What do you hope the Olympic coverage brings to the sport?
LM: A recognition that the basic things attractive about American football are represented far better in rugby, and that some realization of that will increase interest in the sport for players, spectators, commercial sponsors, and the media. Without padding, helmets, and overdone uniforms, the contact, play execution, and even the ball, are much more visible, as are the players as flesh-and-blood participants in the contest. Broken-field running, player interaction, pace, ball skills, deceptive moves — these are all more vivid on a rugby field, even if you don't know the game's rules. Of course, rugby at the Olympics will be seven-a-side, a short, intense, spectacular version of the game. Fifteen-a-side, the "full" version, has even more to offer, since there is 80 minutes of playing time completed in about 95 minutes of broadcast time. Whereas the NFL takes three hours to show a game that only has 60 minutes of playing time.
WM: I think readers will find PB to be kind of a "man's-man" reading with dramatically told stories about pool, drag racing, motorcycles, and of course rugby. But at the same time, it's not overly macho, or in any way boastful about your adventures from the road. Maybe that has something to do with your role as an eyewitness, recounting the events and characters you've crossed paths with. As the narrator in your own life story, how do you approach the storytelling? How do you make the reader see what you've seen?
LM: I just imitate Homer. Ha ha! No, it's a hard question. I think I lust for a connection to other people, and telling a good story can create or strengthen that connection. So that's a big motivator for me. I try to get into others' viewpoints of how they enjoy perceiving and receiving information. Then I try to bridge that connection.
WM: Several of essays in PB offer an insider's view into cultures perhaps misunderstood by many Americans (again, myself included). From bullfighting in Spain through African train rides in its post-colonial days to what's really a heartbreaking revisit (20 years after your first) to the war-ravaged lands of the Balkans. In these "political memoirs," how do you balance that role of storyteller and historian?
LM: History is the recounting of humanity's experience, so trying to understand and convey how the humans "in the picture" see their world is a big part of what drives me to write this stuff. You can't do that from an American armchair. The Spanish are an open, loving, smart, creative, artistic people; bullfighting is not the practice of a barbaric tribe. Yugoslavia disintegrated under the hands of religionists and militarists, not shopkeepers and auto mechanics and school teachers out to murder their neighbors. Africa's population is comprised of the people like those on the train to Harare, not Robert Mugabe and Jacob Zuma; not Idi Amin and Winnie Mandela.
WM: Both my copyeditor, Shane Guenin, and I found ourselves squirming a bit through "Borneo Outside the Envelope," where you were forced into performing backwoods emergency surgery on a friend. You write about being a little squeamish yourself getting through the "blood and gut" portions of dental school. How were you able to go from nearly vomiting to displaying grace under pressure?
LM: This sounds incomprehensible to people who haven't done it, but watching surgery is completely different than doing surgery. Your mind is in a completely different place, with a different set of mental drivers taking over. In the setting, and with the necessary instruments, I am a pretty competent surgeon, and that personality takes over, puts the hand-wringing whiner out of the room. I love doing something I have a mastery for – like an artist or an actor or an engineer or a race car driver.
WM: You taught at a university in New Zealand for a couple of years, as well as other places. Can you speak to the educational differences from the U.S.? What did you like best about teaching?
LM: New Zealanders and Brasilians (my experience) have a great passion for learning. They recognize that they come from a place, often isolated, and a culture that relies on learning the best way to do things, and integrating that knowledge into that culture. Kiwis were heavily influenced by the Scots, and have invented and/or improved a remarkable amount of modern technology. What I liked best is that you never know anything as well as you know it by teaching it.
WM: Do you have a favorite place in the world?
LM: One single place? I'm not supposed to say this (a promise to keep it from overcrowding), but New Zealand's South Island. It's about half the size of California, with less than a million people, spectacular alpine mountains, stunning coastlines, beautiful national parks, fantastic food, extremely hospitable people, fantastic trout fishing, and great wine.  It's very well set up for all sorts of tourism, from really on-the-edge stuff to fully catered trips.
WM: To many, the world can seem like a very dangerous place right now. Do you currently have any misgivings about international travel?
LM: Yes, certainly. I have never been to the Middle East, and don't plan to go. What I see there, from a distance, is a perversion of human history. My comments will be distorted by my lack of experience in the region, but I have read extensively about it, and met many people from there, or who have traveled through. I recommend Thesiger's Desert, Marsh, and Mountain, and The Marsh Arabs for intimate and exceedingly well-informed looks into a culture and landscape that once offered so much but has been corrupted by hypocritical religionists and the dialectic of extreme wealth and dissolute power structures. Of course, there are hundreds of English-language accounts of the Middle East-Asia Minor in times past, but the best modern account that I have read is Exile, by Richard North Patterson; the research he did for this consuming novel is breathtaking.
WM: PB is dedicated to "the reader," who you say, "gives us voice." Can you speak to that a bit more? And what would you like the reader to take away from this work?
LM:  It refers to our earlier discussion of why we/I write. The aphorism about the tree falling in the forest? If a man taps all day on a keyboard, and no one reads his words, does he have a voice? I'd like readers to take away three or four copies for their friends! (he's not kidding). In all seriousness (really, he's not kidding), I hope I convey the old truth that experience is the best teacher. I only recently heard this for the first time: Experience is a good teacher; the problem is that the lessons come after the results!  Writing's like that; you fall on your face a hundred times before you write something your worst critic feels okay about.
Reader Reaction to A Proficiency in Billiards:
What drives Lance Mason's A Proficiency in Billiards — an engaging, wide-ranging mix of travel writing, sports writing, investigative journalism, personal essay, and memoir — is the author's deep curiosity and spirit of adventure.  Mason's ability to be both curious observer and enthusiastic participant also makes him a most companionable, informed, guide.
Michael Steinberg
Author, Greatest Hits and Some That Weren't: Essays and Memoirs 1990-2015, and Still Pitching, ForeWord Magazine/Independent Press 2003 Memoir of the Year.
On stories from home and abroad
"I recommend it to all of you," says Californian Susan Matsumoto. "Some of Proficiency in Billiards is a backwards look at Southern California in the 1960s, fascinating to me since drag races and pool halls were far outside my experience at that time. Much of the rest is more familiar territory, as it lays out his many adventures around the world. But familiar or not, it's all compelling reading and captures the zeitgeist of our times. I especially liked the story of his near-death accident on a BMW motorcycle told in a very exciting cut-away style. Although his affection for his old Norton verges on kinky."
On "Mammoth Meat" and some death-defying motorcycle racers
"You scared the shit out of me with that story," says Nick Welsh, editor-in-chief of the Santa Barbara Independent. "Those guys are totally insane and while I'm glad someone is still hunting the wild and woolly mammoths, I'm equally glad it ain't me. I've gone over enough handlebars in my time to feel the need to prove my fearlessness in face of fearlessness. I thought your descriptions of the track were quite amazing. I would have run out of adjectives and ideas somewhere in the middle of the first paragraph. the wild kinetic energy you evoked was great."
On exploring racial tensions
"Your book was on a pile with Khaled Hosseini, Elie Wiesel and Salman Rushdie. You held your own," writes San Franciscan Willie Maynez. "The racial tension was an evocative theme for me. I grew up a Chicano in a multi-ethnic neighborhood of families coming out of WW II. While everyone got to go to war, the situation at home wasn't quite so egalitarian. The returning Mexican-American vets fought for civil rights (Mendez v Westminster, 1947), and, while my mother went to one of California's first desegregated schools, she was later told the goal had been to show it couldn't work. She wanted so much to belong to a society that saw her as inferior — so intelligent, but never got to shine."
Lance's essay, "The Train to Harare," has been anthologized in The Best Travel Writing, Volume 11: True Stories from Around the World, available on Amazon.
Sport Literate Shots
We've probably received, and published, more essays and poems on baseball than anything else. Running may be a somewhat distant second. But we've also published an entire football issue, offered interviews with great writers, and, not surprisingly, have featured some incredible writing from women. Here is one of our favorites.